Back to listing
Paris Park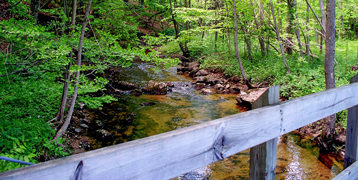 Visit Website
Address
22090 Northland Dr
United States
Expand All
Description
Paris Park was Michigan's second fish-rearing facility when it opened in 1881. This area was selected because of its abundant sources of water and excellent railroad connections, and was a major supplier of salmon and brown trout fingerlings for stocking lakes and rivers. Milk cans painted a distinctive red were shipped throughout the state in railroad baggage cars from 1913 until 1938, when hatchery transport trucks were developed. It continued to operate until 1964, when it was closed by the Michigan Department of Natural Resources. The Park Commission acquired it in 1973, refurbished the grounds as a park and opened it in July 1976. Inside the hatchery building is a pictorial history of the site. You can still see (and feed) the trout swimming in the ponds. The old railroad line has become the White Pine Trail and it runs adjacent to the Park. Paris Park is nestled under a broadleaf canopy of trees. Shaded picnic areas surround the trout ponds. Enjoy kayaking and canoeing from our launch site on the Muskegon River.
Amenities & Services
Playgrounds
Picnic Areas
Sand Volleyball
Basketball Court
Horseshoes
​Cabins
Hiking Trails
We would like to lookup your present location so we can provide accurate directions.
Your browser may ask for your permission to determine your location (possibly at the top of this page).
If you agree, we will use your current location as the starting point for directions. If you don't agree, you may enter a starting location when the map is displayed.