Back to listing
Haymarsh State Game Area Campground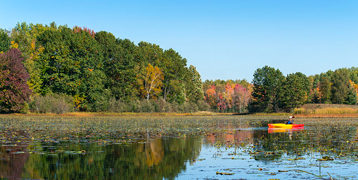 Visit Website
Address
20500 140th Ave
United States
Expand All
Description
Haymarsh Lake Campground is located within the DNR managed Haymarsh Lake State Game Area containing 6,737 acres and is known for the wide range of opportunities it has to offer the outdoor enthusiast. Whether you visit to hunt, fish, camp or take in the natural scenic surroundings, we think you'll find just what you're looking for at the Haymarsh!  Haymarsh Lake was a series of six small bodies of water until 1949 when the Department of Fish and Game built a dam six feet deep where a beaver dam once stood. Haymarsh Lake now has 375 acres of surface water that includes the original six lakes, some 18 to 30 feet deep, surrounded by shallow flats, ranging from four to six feet deep.  The dam is approximately 120 feet long and stands six feet above the spill way. The impoundment offers a large variety of fish including Northern Pike, Largemouth Bass, Crappie, Perch, Bluegill and Pumpkinseed Sunfish.  In addition, the campground offers access to some of the best public hunting opportunities in the County. There is an abundance of deer, waterfowl and small game.
Amenities & Services
Boat Launches
Fish Cleaning Station
Vault Toilet
Public Hunting Land Access
Camping
We would like to lookup your present location so we can provide accurate directions.
Your browser may ask for your permission to determine your location (possibly at the top of this page).
If you agree, we will use your current location as the starting point for directions. If you don't agree, you may enter a starting location when the map is displayed.