Back To Search
The Gathering: A Drive-Up Event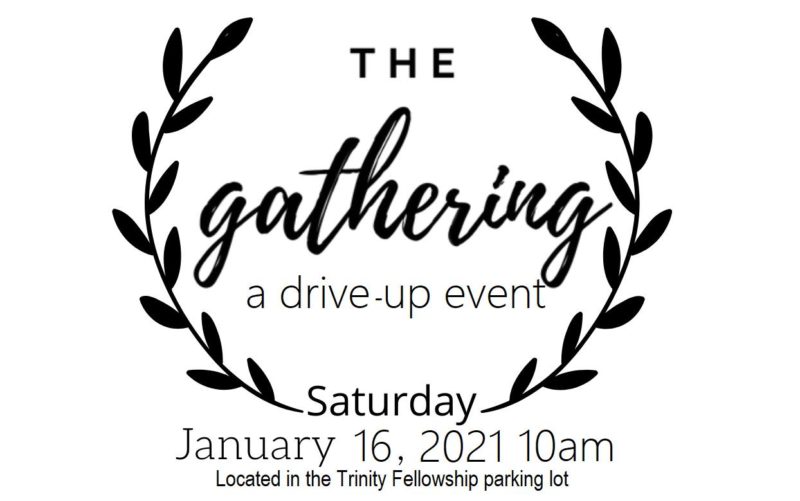 Saturday, January 16, 2021
Trinity Fellowship EFC
15085 220th Ave
Big Rapids, MI 49307 (231) 796-2600
At this unique drive-up event we will gather in our cars for an encouraging time of friendship, warm beverages, prayer, and a special gift, all to go.
Come with a friend or by yourself, remain in your car and be provided with a packet of encouraging stories and information on community groups that promote healthy social connections. The first 100 attendees will receive a gift bag that includes items for personal growth and refreshing.
Get your TICKETS now! 
trinityinfo.org/thegathering
 (type this address it into your browser, for some reason it doesn't like the link from facebook...)
Activities
Carpooling & Company:
Come with a friend. Can't meet up before? A designated parking area will be marked to park and ride together through the event. Recommendations: max 4 people per car, pick the warmest vehicle among your friends or bring blankets to make it extra cozy.
Welcome & Story:
As cars arrive, they will be directed to pick up a welcome packet with instructions and 3 encouraging stories to pick from to read out loud (and save the other two to read at home).
Coffee & Conversation:
A drink menu will be provided in the welcome packet with an order card, all the fixings optional. Discussion questions will be included in their welcome packet.
Gifts & Growth:
Fill out the connection card to receive a special gift. Gift bags are limited to the first 100.
OPTIONAL BONUS:
Park & Pray:
Designated parking spots with volunteers ready to pray over the people in the car and worship music playing outside. A box will be placed on a table outside their window to drop off prayer request cards. Optional: Pray for each the ladies you carpooled with.
Safety Precautions
Volunteers will wear masks and gloves. Contactless option available. 1. No Drinks. 2. Gift bags & Welcome Packet left on a table for them to reach out their window to get.