Back To Search
GROOVE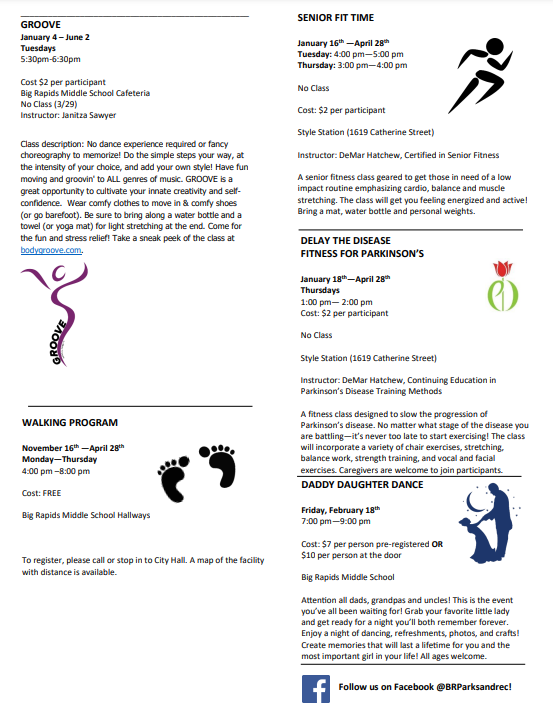 5:30 pm - 6:30 pm

(Expired)
Big Rapids Middle School Cafeteria
500 N Warren Ave
Big Rapids, MI 49307 (231) 592-4038
Cost: $2 per participant
January 4th - June 2nd
Tuesdays
5:30pm - 6:00pm
Cost: $2 per participant
Big Rapids Middle School Cafeteria
No Class 3/29
Instructor: Janitza Sawyer
Class Description: No dance experience required or fancy choreography to memorize! Do the simple steps your way, at the intensity of your choice, and add your own style! Have fun moving and groovin' to ALL genres of music. GROOVE is a great opportunity to cultivate your innate creativity and self-confidence. Wear comfy clothes to move in and comfy shoes (or go barefoot). Be sure to bring along a water bottle and a towel (or yoga mat) for light stretching at the end. Come for the fun and stress relief! Take a sneak peek of the class at bodygroove.com.
To register for programs please fill out form and return to:
City Hall Recreation Department, 226 N. Michigan Ave, Big Rapids, MI 49307
OR Fax to 231-592-4059
Forms and further information can be found at www.brpr.org or by calling 231-592-4038.