Back To Search
FSU 2021 Girls Basketball Camp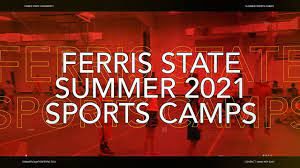 Ferris State University
210 Sports Drive
Big Rapids, MI 49307 (231) 591-2827
Cost: Varies based on type of camp choosing
Ferris State University in Big Rapids, Michigan offers various sports and academic summer camps for kids. Whether you're looking for a day camp or a sleep-away camp, Ferris offers a variety for many different interests. Campers gain a university experience while participating in faculty led academic camps and varsity team led sports camps.
Please Note: If you are under the age of 13, please do not try to register. You must have a parent register for you.
Young athletes can choose a sports camp at Ferris State and enjoy a summer experience where they can build skills and improve their game.
Ferris summer sports camps and clinics are designed to help players learn from the Ferris coaching staff and members of Bulldog varsity teams on what it takes to move their game to the next level, whether that level is to make the varsity or simply to have some serious fun.
INDIVIDUAL CAMPS
FUNDAMENTALS CAMP
DATE: MONDAY, JUNE 28 – WEDNESDAY, JUNE 30
GRADE: 4 – 12
OVERNIGHT: $250 / PLAYER
COMMUTER: $190 / PLAYER
CHECK IN: 10-11 AM
CHECK OUT: 3:30-4:30 PM
ELITE CAMP #1
DATE: THURSDAY, JULY 1
GRADE: 9 – 12
PRICE: $50.00 / PLAYER
ELITE CAMP #2
DATE: MONDAY, AUGUST 2
GRADE: 9 – 12
PRICE: $50.00 / PLAYER
TEAM CAMPS
DATES:
THURSDAY, JUNE 24
FRIDAY, JUNE 25
SATURDAY, JUNE 26
PRICE
$300.00 – 1 DAY
$500.00 – 2 DAYS OR 2 TEAMS
$600.00 – 3 DAYS OR 3 TEAMS
THREE GAMES PER DAY. TEAMS ARE RESPONSIBLE FOR MEALS AND LODGING UNLESS THEY CHOOSE THE EAT, STAY & PLAY COMBO.