Back To Search
Drive-Thru Free Food Pick-Up For Kids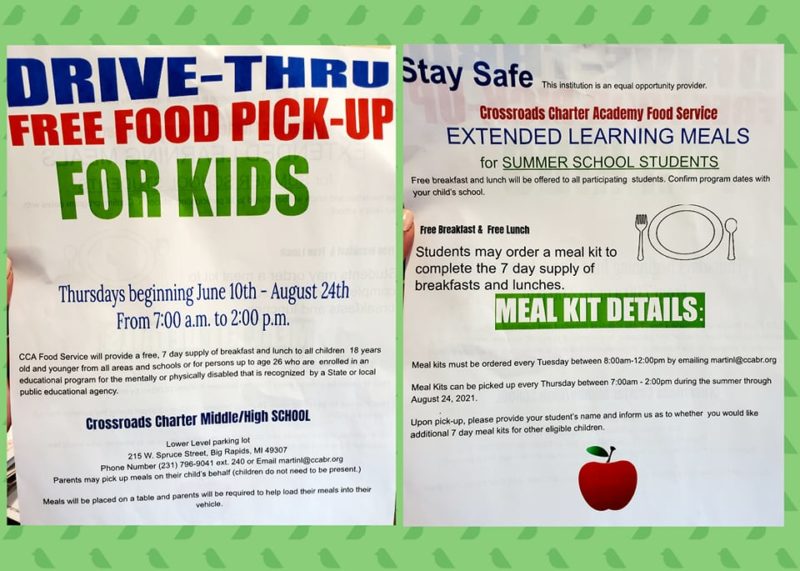 Thursday, June 10, 2021 - August 24, 2021
7:00 am - 2:00 pm

(Expired)
Crossroads Charter School
215 W. Spruce Street
Big Rapids, MI 49307 (231) 796-9041
Cost: FREE
CCA Food Service will provide a free, 7 day supply of breakfast and lunch to all children 18 years old and younger from all areas and schools or for persons up to age 26 who are enrolled in an educational program for the mentally or physically disabled that is recognized by a State or local public educational program.
Crossroads Charter Middle/High School
Lower Level parking lot
215 W. Spruce Street, Big Rapids
Phone: 231-796-9041 ext. 240
Email: martinl@ccabr.org
Parents may pick up meals on their child's behalf (children do not need to be present)
Meals will be placed on a table and parents will be required to help load their meals into their vehicle
Crossroads Charter Academy Food Service Extended Learning Meals for Summer School Students.
Free breakfast and lunch will be offered to all participating students. Confirm program dates with your child's school.
Students may order a meal kit to complete the 7 day supply of breakfasts and lunches.
Meal Kit Details:
Meal kits must be ordered every Tuesday between 8am-12pm by emailing martinl@ccabr.org
Meal kits can be picked up every Thursday between 7am-2pm during the summer through August 24, 2021
Upon pick-up, please provide your student's name and inform us as to whether you would like additional 7 day meal kits for other eligible children