Back To Search
Music on the River 2021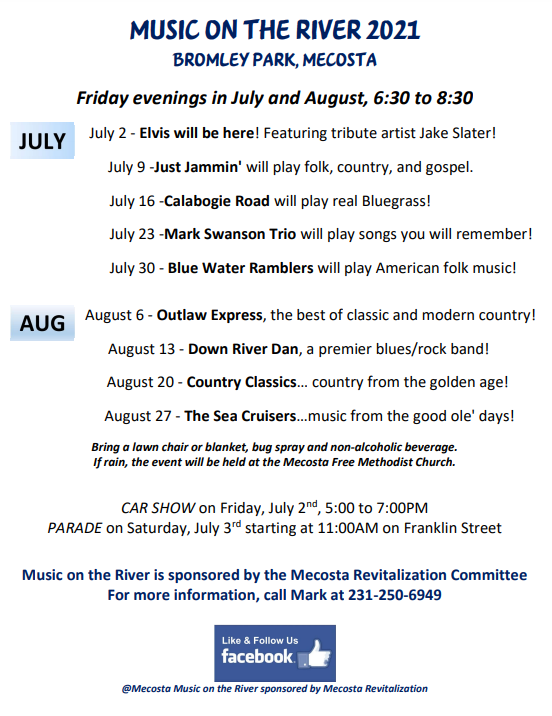 Occurring July 2, 2021 - August 27, 2021
6:30 pm - 8:30 pm

(Expired)
Bromley Park
395 W Main St
Mecosta, MI 49332 (231) 972-7614
Cost: FREE
Music on the River - Bromley Park, Mecosta
Friday evenings in July and August from 6:30pm - 8:30pm
Schedule:
July 2: Elvis will be here! Featuring tribute artist Jake Slater!
July 9 - Just Jammin' will play folk, country, and gospel.
July 16: Calabogie Road will play real Bluegrass!
July 23: Mark Swanson Trio will play songs you will remember!
July 30: Blue Water Ramblers will play American folk music!
August 6: Outlaw Express, the best of classic and modern country!
August 13: Down River Dan, a premier blues/rock band!
August 20: Country Classics...country from the golden age!
August 27: The Sea Cruisers...music from the good ole' days!
Bring a lawn chair or blanket, bug spray and non-alcoholic beverage. If rain, the event will be held at the Mecosta Free Methodist Church.
Music on the River is sponsored by the Mecosta Revitalization Committee. For more information, call Mark at 231--250-6949.
Like & Follow on Facebook: @mecostamusicontheriver